On a very chilly January day, new South Korean brand Dessert (formed by mother company Kirsh) set foot at Hare farm, East Sussex to shoot their launch campaign ready for Spring 2019. All 5 models and crew members put on a brave face for a bracing day outdoors in the raw English Winter weather. Did they regret the choice of wearing pristine white trainers in a sheep's field? Thank goodness the fields weren't too sodden – at least half the trainer's sides remained white by the end of the day. Not bad going for a photo shoot on a farm location in January.
The crew arrived from around the world: Spain, Korea, Romania and London: all collaborating together to make an idea turn into a reality.
A relaxed, productive day on location 
Photographer, Jin Oh and the team recce-d the farm on arrival at 8.30am, leaving hair, makeup and stylists busy getting ready inside.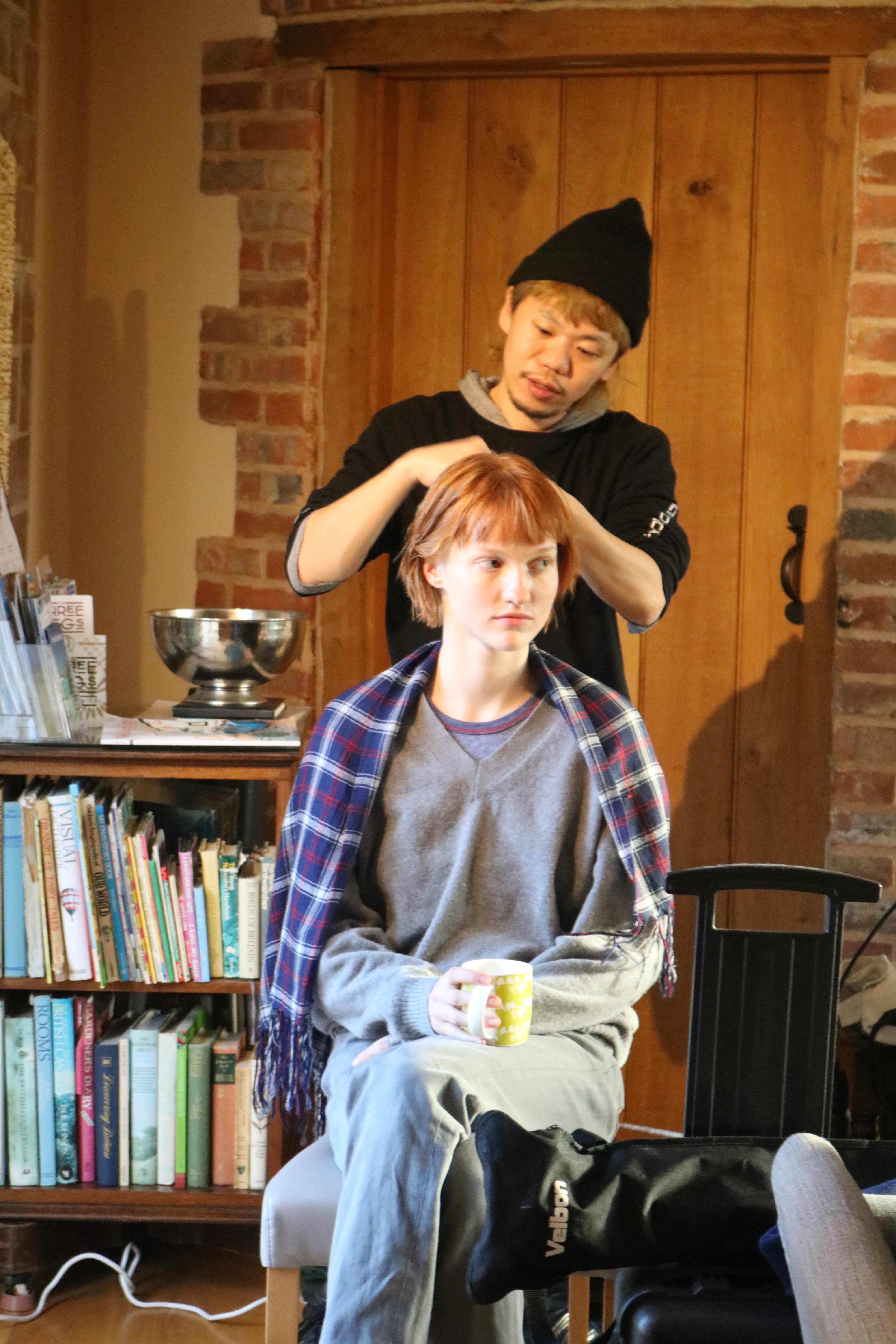 All the backdrops chosen were within walking distance of the warm base in the farmyard, and although the owners could have left the crew to their own devices, it was actually really useful having the owners within earshot…. little did we know but the sheepdogs and their sheep were models too!
Sheep and border collies also became models for the day
Hare Farm is a working sheep farm and today was a day when the sheep had been brought in from the fields. Farmer Stuart was ahead with his work, he stepped aside for a few minutes and the sheep and dogs, Meg, Tiggy and Tess were then given the opportunity to appear in the shot. What a great spontaneous extra that a farm location can give.
Beautiful farm location backdrops
As well as photography, drones also flew and cine cameras filmed a video to help launch the new Kirsh Dessert brand. As they discovered Hare Farm offers a breathtaking lake setting, a natural amphitheatre in fact,  surrounded by rolling steep hills and perfect for drones flying overhead.
The crew wandered from the lake to the sheep, from brick farm buildings to fences, models wrapped in rugs and crew working efficiently around them. The contrast of a spring pastel collection versus a stark winter landscape looked fabulous.
A warm Crew base in the middle of the location
After feeling the cold, the crew all piled into the Oast house keeping warm and comfortable in the holiday let that sits at the heart of the farm. Kristi from Seasons Wild and Free provided the catering, starting with breakfast, and also including a delicious curry lunch.
For more information on Hare Farm as a shoot location, take a look here