How the Monsoon Kids shoot came about
When I heard the familiar "Thank goodness I've found you. I didn't know where to look" from the in-house producer at Monsoon, her brief was music to my ears. She needed a shoot-friendly farm, with farmyard, animals (a whole array this time) and a gorgeous character-loaded barn. Without the budget for a production company to lead the planning, and yet with little time to scout around herself, I was able to take away the "needle in a  haystack" whirlwind that could ensure for Monsoon and instead quickly provide enough choice for the Creative Director to make the selection.
Horsenden Farm was the chosen shoot location
Horsenden Farm in Kent ticked all the boxes
A WHOLE ARRAY OF ANIMALS. Horsenden offers variety in spades. Horses, ponies, sheep (even the fun-looking Valais Blacknose breed), cattle, dogs, cats, piggies and chicken can all be found here. And when I've asked for something not on the list (including donkey, bunny, goat…) the owner will rustle up one of those in a flash too!
CHARACTER-LOADED BARN. Horsenden's barn is super charming, and layered with textures that monsoon were drawn too. Timbered flooring and a mix of brick walls, timbered and old plastered walls all added to the character of the barn, with a classic frontage with huge Kent barn doors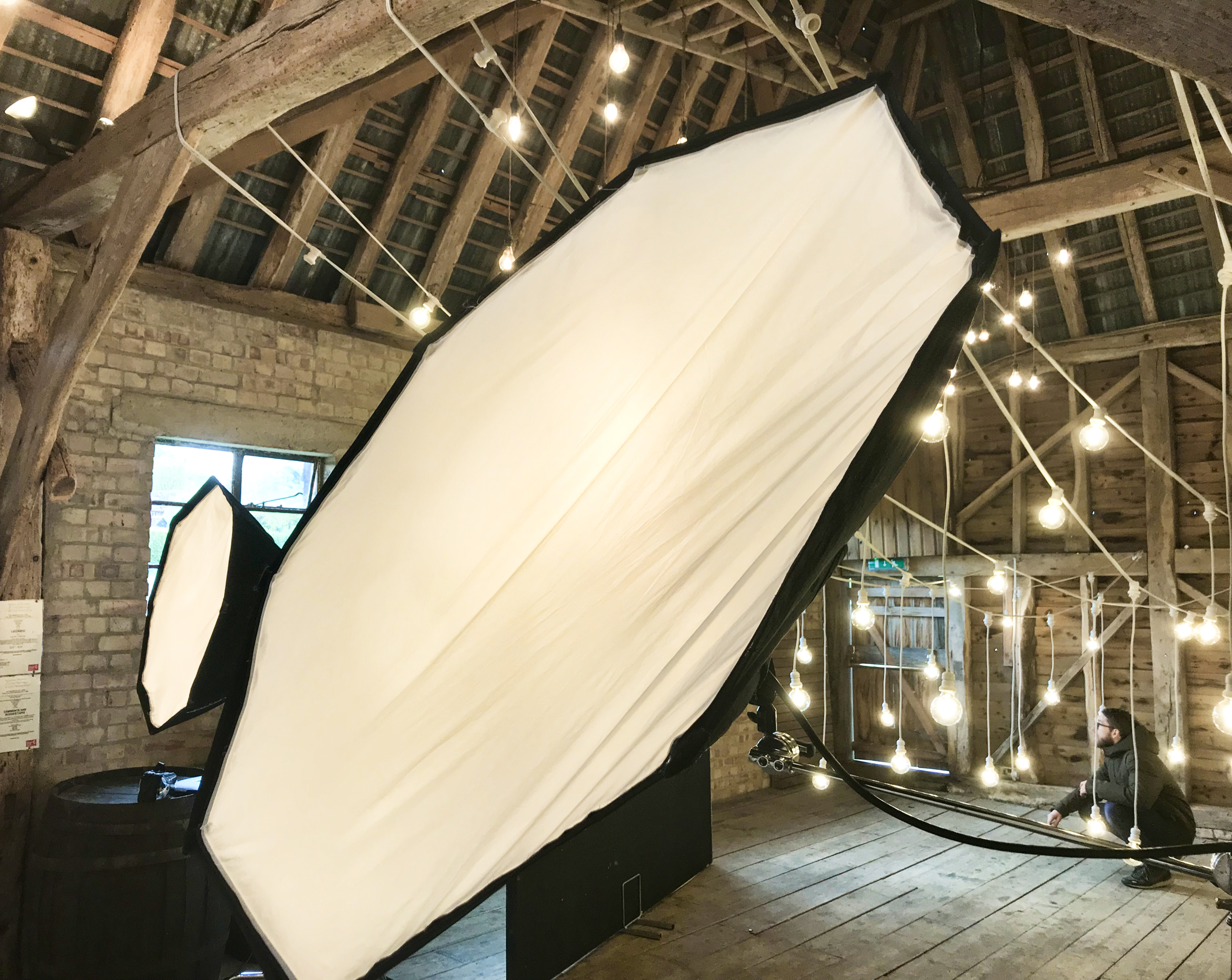 FARMYARD. At Horsenden, the farm is often described as "Darling buds of May" country. So much character, untouched over the years, gave Monsoon a huge array of backdrop options: corrugated tin, brick, straw, stables, gates to name but a few
SUPER SHOOT-FRIENDLY. Incredibly. Owner Clare goes above and beyond to offer a service that helps ease the planning and preparation of a shoot such as this. She sources many props, catering, temporary crew bases. Loos (not just ordinary loos, these loos are very rustic cool with a view of the cows :))and facilities are also on site. Here's owner Clare with the bunny in a hat!
BONUS BACKDROPS. Horsenden offers unique extra backdrops in abundance. How about the bed by the lake? The pontoon? Swing? Boat?
Mixing Animals and Children in a photoshoot? Disaster?!
No, it does not need to be mad to mix animals with children. It was a match made in heaven in fact!
Firstly the animals were on home soil, and handled by their owners. This makes life for the animals more kinder and more natural.
Secondly, the children (all 25 of them across 2 days) had an all-round chaperone, they were looked after away from the animals, and were fresh as a daisy when their time came for shooting.
And thirdly, the Monsoon crew were very aware that time was tight for both animal and child to create the perfect image together. The photographers, stylists and support crew were all very relaxed and very experienced with getting the best out of children. They also bought into how you just have to let the animals do their thing. No animal on the shoot was a "professional performer" they were all genuine farm animals or pets. It worked nonetheless, because of the relaxed environment created, and the composure and patience of adults on set.

Hire a farm location and animals come free
When hiring a farm location with animals, a producer does not have the additional burden of sourcing and paying (huge costs) for the hire of animals from away. Here we included the animals within a core location hire fee, and included a small fee for the owner to be on hand for handling. If we need to source additional animals to those which are already on the farm, as we needed to for Monsoon (the bunnies!), we charge a genuine fair additional charge, and source as locally a possible. The bunnies came from a home just one mile away.

A smooth, local way to source props and facilities
Clare from the Horsenden Farm location was a great help in sourcing some props and facilities for Monsoon. She hires the barn for weddings and so has built some strong supplier relationships locally, including lighting and marquee hire, both used by Monsoon.  She also "knows a man who can": take pumpkins that Monsoon were needing in April for this photoshoot – they don't turn orange naturally until September. But Clare found a man who can. And Christmas trees – Clare knew a local grower.
And for catering, Clare suggested a handful on varying budgets and Monsoon fell for one. The same went for furniture props and lots more. Clare knew where to go, and coordinated a whole host of extras to help smooth the organisation for Monsoon, working alongside the prop stylist.
who also brought in a huge array of props on the day, creating some of them on the fly too. Made to order drapes and flags were sewn together in the barn.
Management on the day
The shoot spanned 2 days on an April weekend. Typically, an owner can leave alone for "standard farm location hire" but for this particular shoot, 4 owner-led people were on hand for both days, including myself from Farm Locations. There was a lot to supervise, animals to handle, props to move (including big bales by forklift), vehicles to direct, children to chaperone. The organisation and management on the day, enabled a smooth and successful weekend of shooting.
How proud we are in seeing the campaign now live across branches, website and digital marketing. It looks amazing, and we know how much hard work went into it to make it happen. Every minute was worth it!
Take a look at the final images chosen for the campaign >   Monsoon Children AW19 Campaign