Let's introduce to you Quintessential England in the countryside, at its very best. This new country estate location is absolutely stunning and there's so much to offer you. Where do we start?
The family-owned and managed Chalk Farm Estate extends over 2,500 acres of downland, and is set on the North Downs of Kent.
It may be super close to London – just an hour's drive from the city – yet the country estate occupies a very peaceful and unspoilt part of the Kentish countryside. Rolling upland and lowland terrain provides the canvas for a rich diversity of fieldscapes, woodland, watercourses and historic buildings.
The main family home, an historic mansion dating back to the 1600s is also available for photo and film shoots, as well as the outbuildings that surround it (including a wonderful old squash court with amazing light and height). The formal gardens extend into impressive tree-scapes including tree lined avenues and sweeping drives.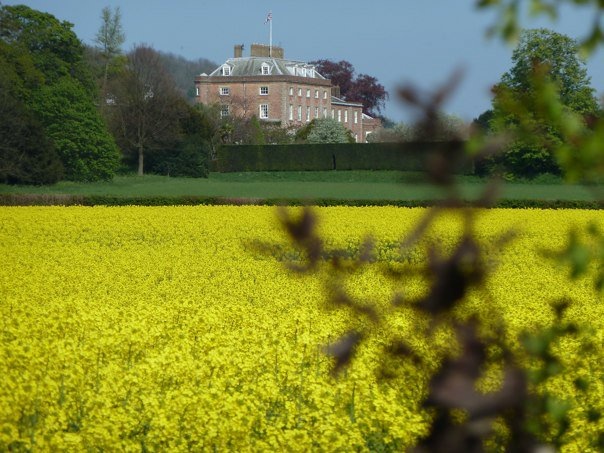 The family at Chalk Farm Estate are far from inexperienced in hosting events and shoots on location. Weddings, film shoots, festivals and corporate team events have all been enjoyed here. A pride and joy of the family is a pinetum bursting with a wide mix of tree species and carpeted in lush grass and azaleas. This large area has played host to a few festivals in recent years and now includes useful trackways, water and parking for hundreds of cars nearby . Across the farm there are other hard areas of land which can accommodate hundreds of cars too if needs be.
There's so much to say when describing Chalk Farm Estate as such an ideal location for a film or photo shoot. Not only does it have a vast array of backdrops nodding to Quintessential England at its most wonderful (an ancient orangery, formal gardens, kitchen garden plots, old courtyard barns and the squash court, imposing gates and of course the main mansion), it's the farmland mainstays of acres of ancient and new woodland, arable land, wild areas and watercourses (even with a folly or two) which complete the outdoors location jigsaw. And all these shoot solutions are within easy reach of London (and just a 2 minute drive from the local train station).
Super Facilities and Service on Site
The estate is very well prepared for a crew's arrival.
A charming outbuilding in the mansion's courtyard is well set to be the base for the crew. With large living spaces, a kitchen area and loo, this temporary green room is conveniently close to the Estate office where the helpful management team are based. Catering options are on hand, and for overnight stays, one of the floors of the main house can be used by the crew for £700 per night (sleeps 8).
All manner of props are available to crews – just ask and we will see if we have it. How about a group of archers dressed in medieval costume? We have those to hand – they meet weekly in one of the woodland areas and would be very happy to feature. Don't hold back on your requests, we may just have an answer for everything!
Chalk Farm Estate is an ideal addition to the Farm Locations portfolio and we are delighted to be now offering this new country estate location for film and photo shoots. More information and photos can be found here. 
Please contact Jo on 07802 979348 or email hel[email protected] and we can discuss its potential for you.